Today, it's not enough for a home to be beautiful. It also needs to be functional. We're seeing both of these key elements incorporated seamlessly into the accessible homes of today, especially in universally designed homes.
Wondering what the most popular accessible homes feature? Here are the latest trends that we're seeing in new homes in and around the Triangle.
Open Floor Plans
The latest home design trends favor open floor plans. Not only are open floor plans ideal for entertaining guests, they provide enough space for residents in wheelchairs to get around easily, and promote an open rather than a cramped feeling in the main rooms. There tends to be more space in the rooms on the first floor, including the kitchen, dining room, and living rooms, in these new homes.
First Floor Master Bedroom
Having the owner's suite on the first floor is becoming an increasingly popular design element in new homes, allowing homeowners to "age in place" and residents with disabilities the ability to live comfortably on the first floor without having to worry about navigating the stairs, especially in a two-story home.
(Here are all available homes in the Triangle area with a first floor master bedroom, or gated communities with first floor master bedrooms if you're looking for these features.)
Appliances Off the Floor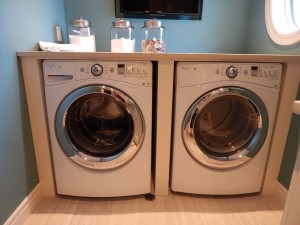 Having microwaves, ovens, dishwashers, and laundry off of the floor and within easy reach are great trends that we have been seeing in newer accessible homes. But in older homes, too, front-load washers and dryers are important features — no need to worry about putting strain on your back to pull out the laundry!
In kitchens, there is plenty of cabinet space built into the kitchen island — a great space saver within easy reach.
Other Features in Accessible Homes
But in addition to these latest home design trends, we're still seeing other elements of universal design incorporated into the newest properties. These elements include:
zero-step entry
wider doorways
lever-style door handles
covered entryways
smart home wiring
walk-in or roll-in showers
Searching for an Accessible Home in the Triangle?
I'm Karen Barbour, a real estate agent who specializes in providing resources for the whole disability community in the Triangle. Are you searching for an accessible home that has these latest home features? If you are eager to find your perfect home that's accessible and trendy, contact me today at (919) 931-1939 or karen@accesshomesnc.com and we can schedule a showing.