I am a disability housing specialist and the plain facts are it is HARD to find accessible homes or ones that are built with Universal Design elements in mind. They are out there but they are few and far between. It's like finding a needle in a hay stack.
Accessibility is not the same to everyone.
Another factor that makes it challenging is that one person's need and understanding of accessibility is not the same as someone else's. The key is listening to your clients needs and they working with them so they know things that come up in the search may or may not work. It may require the agent going out there to home and previewing ti for the client. This may require measure doors, hallways and the turning radius in a bathroom. Every once in a rare while, and house might work but the client can not enter the house because there is a step at every entrance. This is not easily overcome because some power wheel chairs can weigh up to 200 on average. The heaviest can weigh up to 400-500 lbs.
Example: Two separate wheel chair users/ buyers are looking for an accessible ranch in the same price range. One ranch home comes up in the search. There is a ramp into the home. It has wide open hallways and entry ways into the major living spaces. It has wood floors which are easier to navigate in a chair than carpet. There is only one bathroom and it has a 30 inch door. One wheel chair user can roll into the bath straight and transfer herself from the chair to the tub using a shower chair. She can also transfer to the commode. The other buyer/wheelchair user has a power chair and it can not even fit through the door of the bathroom never mind turn around once there.
Accessible features on MLS
The entry point for homes on line is through their local MLS
(Multiple Listing Service). Every MLS is not the same so they may or may not have search-able criteria for accessibility. Even if they do have accessible features to search by, an"accessible full bath" is not very clear. Does that mean there is a roll-in or curb-less shower? Is there a hand help shower head? Is there a higher toilet for easy transfer?Are there grab bars in place or is there blocking behind the dry wall so they can be added easily & securely? Is there a roll under sink? One person's understanding of an accessible full bath is not another person's understanding. One person's needs are not another's.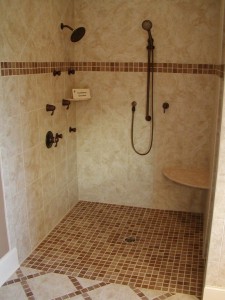 It really requires a commiment from all parties to be patient and know that trial & error will be involved.
Example: I had an out of state buyer come down to look at my accessible listing at 3028 Van Gogh in Apex, NC. She was a wheel chair user and the two previous owners of this home used wheelchairs. She loved wheel chair accessible features of the home: the home's openness, wide hallways & doors, zero step entries and hardwoods throughout. However she was disappointed with the kitchen. It was open like the rest of the home. It had ample accessible drawers for storage than than high cabinets. It had a lowered built in microwave for easy access. But it did not have a lowered work surface, cook top or roll under sink. She liked to cook and the past too owners did not.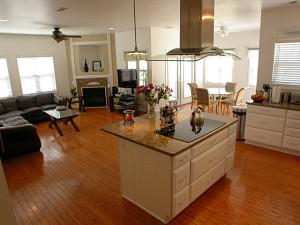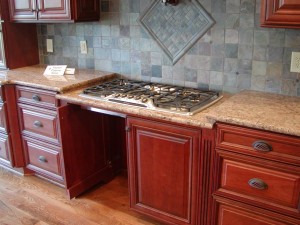 The photo of a kitchen to the right that would work great for her! So it's important to remind folks that accessible homes are out there. It just might take a little more time and a good partnership to find them.