To all the real estate investors out there in the Cary & Triangle area, I have an important message for you. If you make your rentals accessible they will come!
Recently I was featured in a front page article in my local paper because of my unique niche in real estate.
The Cary News article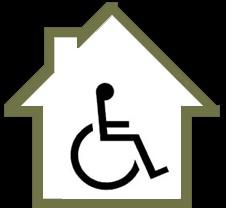 Since the article appeared I have had lots of folks contact me. In the last 2 days I have had 3 different people contact me around their accessible housing needs. Unfortunately 2 of them were looking for an accessible rental and that is harder to find than an accessible home to purchase. There just are not enough of them!
So if you flip houses or fix up & hold them as rentals it is important to know that there is an under served population out there. With the number of baby boomers increasing every day, it makes sense to make homes that work for this population. People don't want to face the facts but, the older we get the more chance we are going to have a disability. Universal designed homes work for all!!! Widening doors, pulling out walls, changing hardware, creating a zero step entrance and doing a zero threshold or minimal threshold shower are all GOOD strong marketing enhancements to a rental.
This is old data but the "U.S. Census Bureau's 2002 Survey of Income and Program Participation (SIPP) found that there are 51.2 million people with disabilities in the United States. More than one in six people in this country are potential customers for businesses." (taken from an article "Customers with Disabilities Mean Business").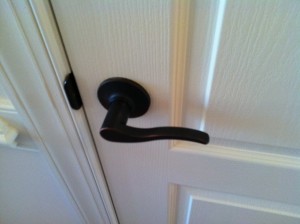 Lever handle hardware works better for folks with arthritis and who do not have good fine motor dexterity.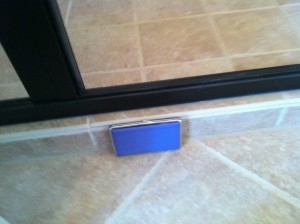 This is my business card holder placed at a shower threshold. This is not a roll in shower and it will not work for everyone. But it is meant to show how low a shower threshold can be…helping those with mobility challenges.
So make your rental accessible and with universal elements in mind and it will get rented! Trust me! There will be a tsunami of need coming. Are you ready?